Blake Griffin is gone.
After just coming to terms with losing Chris Paul, Clippers fans now have to face the harsh reality of life without Blake.
This means life without State Farm and Kia commercials, life without never ending injuries, life without first-round playoff exits, life without whinging like babies and life without Kendall Jenner.
It's a cold, bleak future for the baby brother of LA.
Except, there is a beacon of hope in the distance.
The Clippers have acquired Tobias Harris, who is averaging an impressive 18.1 points this season, in addition to Avery Bradley, one of the leagues premier defensive guards.
Neither of them are the shining light the Clippers desperately need though.
Just when all hope seemed lost, Stan Van Gundy relented and handed the Clippers the keys to their future.
Introducing Boban Marjanovic.
Casual NBA fans may have never heard of his name, let alone witnessed his incredible abilities, but Boban is the future of the Clippers next championship roster.
He is the hero that the Clippers don't deserve, but the one they so desperately need.
Here are ten reasons why Boban will become the first Clipper to have his jersey raised up amongst the rafters.
To share the honour with the likes of Kobe Bryant, Shaquille O'Neal and Taylor Swift.
10. Boban is an actual giant
Boban stands at 7-foot-3 tall, with a standing reach of 9-foot-7! To put that into perspective, thats a higher standing reach than Yao Ming and Wilt Chamberlain.
This means that he can basically put the ball into the basket without even leaving his feet.
9. Boban has big feet, big ears and even bigger hands
Boban has size 19 shoes, which is dwarfed only by the size of his ears, which is once again dwarfed only by the size of his hands.
Honestly, look at them!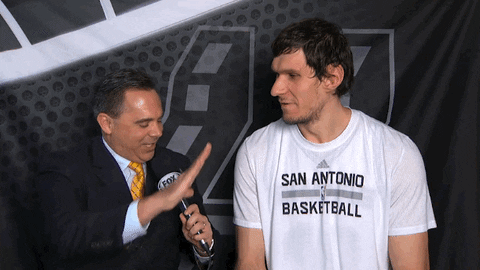 8. Boban is already ready for those Blake Kia commercials
Someone give this man an Oscar already!
7. Boban can dance
No words, just no words.
6. Boban is the most efficient scorer in NBA history
No, I'm not making this up.
No player in the history of the entire NBA has been able to match Boban in points per shot attempts.
Nobody.
5. Boban can break a rim.
Alright, so it's not as dramatic as a Shaq ring break, but it still counts.
4. Boban can make grown men wet their pants. 3. Boban is a three-time MVP
Boban won three straight Serbian League MVP awards between 2013-15.
Has Blake won an MVP award. No, didn't think so.
Boban > Blake.
2. Pain is no barrier to Boban
Jordan may have had his flu game, but it pales into insignificance when compared to Bobans heroics.
Boban had a broken foot, but still played for the Red Stars in the 2015 Serbian Championship and led his team to its first title since the 1997-98 season.
1. Get you a man who can do both
Boban is a man of many talents.
He can put in the work and finish with strength. Or he can dazzle you with his skills and craftiness. The dawn of the Boban era has just begun.
Remember the name.