Hulk Hogan, the man children of the 80's so fondly admired has successfully sued website Gawker, US$ 115 million for publishing a sex tape involving the wrestling icon and his best friends wife.
I know what you are all thinking. Who the hell would want to see a balding, 62 year old man, with the dress sense and vocabulary of a tween, performing moves in the bedroom, resembling his last great performance at Wrestlemania 3?
Of course it would have to be the same people who get a thrill from watching a balding, 62 year old man, with the dress sense and vocabulary of a tween doing his best work in a wrestling ring.
Well that's what Gawker believed when they published the sex tape.
So lets begin from the start of how this incident occurred. Hogan said his friend, Bubba 'The Love Sponge' Clem (what is a love sponge?) told him in a phone call that his wife, Heather wanted to have sex with him.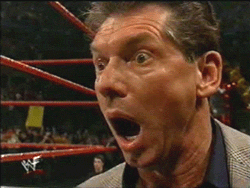 Hogan, shocked but ever so generous, accepted the invite to sleep with his best friends wife.
Hogan had a suspicion that his friend may have been recording the relations, but for reasons that could not be explained, the Hulkster carried through with the deed.
Speaking in court, Hogan said he felt "humiliated" by the video and had not been the same man since it was published.
The last time Hogan felt this humiliated, he was swinging on a wrecking ball, wearing a thong.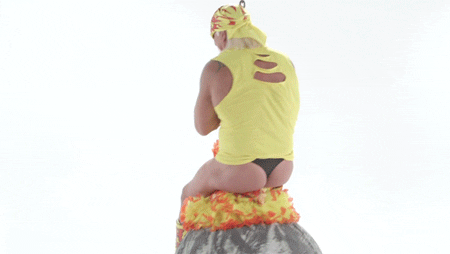 But how humiliated was Hogan by the sex tape. Gawker lawyers went out of their way to prove Hogan has never been afraid to shy away from the topic of sex, as heard in a radio interview from 2006.
The interview centred around Hogan's (cough) manhood. Yes we mean his Willy Wonka.
Gawker lawyers wanted to prove the Hulkster's manhood is not as big as he proclaims.
The discussion was so off topic that we will skip the remainder of it for the sake of our readers.
To lighten up the mood, here's a gif of a cute panda.
Now back to the main event. Gawker lawyers claimed that Hogan was humiliated by the video as it showed him racially vilifying his daughter's boyfriend at the time, rapper Stacks.
The racial rant led to the WWE firing Hogan last year and removing all Hulk Hogan related products from their online store.
The only other time the WWE has abandoned someone so abruptly was when superstar, Chris Benoit murdered his son and wife before committing suicide.
The Gawker wanted to prove that Hogan's lack of income in the past year was the reason behind his decision to sue the website.
But with his home town jury supporting him, Hogan was the victor in the grudge match that ended with him becoming $115 million richer and feeling good about himself once again.